Going into this weekend series with the Mariners the Yankees had scored more than ten runs once this season. Now they're 2-2 scoring a combined 25 runs in two games. It's a far cry from when they matched up against the Rays, Mets and O's and went 1-6. They scored as many runs Saturday as they had over the course of the seven games prior to this current win streak.
But I guess that's the way things go when you get to play the worst team in baseball. It is rather fascinating that a team could have Erik Bedard, Felix Hernandez and Jarrod Washburn and be this bad. Though, to be fair Richie Sexson kinda cancels them all out.
It is finally nice to see Robbie Cano swing the bat well. I hated hearing people say that he needed someone to get on him and he was letting his new contract get to his head. His history has always shown him to be a slow starter it just so happens this year was slightly worse than previous ones. He'll probably still end up right around .300 by the season's end.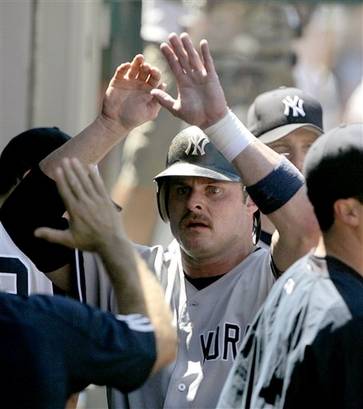 Now to more important matters. Jason Giambi needs to back away from the mustache bus and go shave. I know he is on a hot streak right now and doesn't want to mess with success, but I thought that was why he wore the gold thong. He has tried this stache thing before and at one point he even had most of the team sporting their creepiest facial hair. Let it go Giambino, let it go.